Venue

Olive Gardens
C. Camilleri & Sons (Catering) Ltd.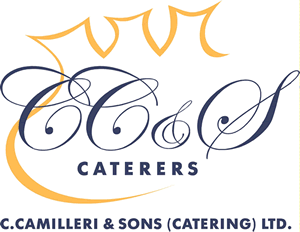 Special Offers:
Ask for our offers in connection with 2012 and 2013.


At C. Camilleri & Sons (Catering) Limited we have built a reputation for creative catering and coordinating dream weddings and other elegant events. From casual to formal, standing to seated, we bring together all the elements necessary for a memorable occasion, leaving our clients to relax, confident in the knowledge that everything will run smoothly.


The principle behind our catering is translated into a desire to please our clients in a personal way. We offer the opportunity to be individualistic with an emphasis on imaginative foods and presentations, which are not only delicious, but also exciting. We also constantly strive to update our catalogue, inclusive of 300 plus items, to include a balance between imaginative foods and traditional, sought-after items.


Undeniably, professional service is a must. Delivered by trained, polite, and smartly groomed staff, our service surely complements the excellent food.




For more catering pictures make sure to visit our feature in the Catering section.


Olive Gardens in Mdina, our exclusive venue, is a distinguished reception hall perfectly suited for a dream wedding. The indoor capacity can hold between 350 to 400 persons, whilst the upper and lower gardens combined can accommodate up to 1000 standing guests. Its well-groomed gardens, charming pool area and stunning views of Mdina, offer an unparalleled uniqueness. The breathtaking Mdina backdrop can be appreciated both during the day with its luscious greenery and olive groves surrounding the garden, as well as during the evening, when the bastions are beautifully lit-up. The venue's versatility provides for various set-ups which include receptions and seated dinners, both indoors and outdoors. For seated events, Olive Gardens can hold up to 100 guests indoors and 250 guests outdoors. The flowers, candles, elegant seating arrangements and sparkling crockery, present a superb and truly magical ambience. Moreover, it is not often that one can dine in such beautiful surroundings!


Although we offer exclusivity at Olive Gardens, we can also cater in any independently-owned venue. A complete setup is included as part of our catering service. All stations, such as bars as well as buffet and other stations are dressed in white linen. Needless to say, all catering equipment necessary for the smooth running of every event is also provided.





C. Camilleri & Sons (Catering) Ltd.
Contact:
Alexia Camilleri

Email:
ccamilleri@bridemalta.com

Website:
http://www.camillericatering.com

Phone:
(+356) 2147 2255

Address:
C. Camilleri & Sons (Catering) Ltd.
13-20 M. Borg Gauci Street,
Tal-Handaq, Qormi QRM 17





Olive Gardens
Contact:
Edmond Bonett

Phone:
(+356) 2147 2255

Address:
Olive Gardens, Tal-Mahruq
Triq l-Gharreqin, Mdina

Viewing:
Viewing by appointment




Let others know about this page! Share it:

This page has been visited 56086 times.