Marriage Humour
There's nothing better than a good joke to keep you in the right mood to plan the most joyful event of your life! Send us your jokes on by clicking here.

Sincerely,



---
Contributed by Colin McE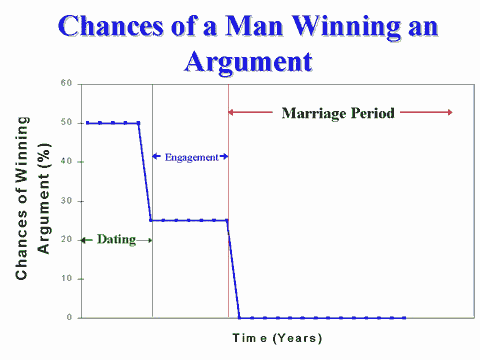 Contributed by Louis SA
Wife: 'What are you doing?'
Husband: 'Nothing.'
Wife: 'Nothing...? You've been reading our marriage certificate for an hour.'
Husband: 'I was looking for the expiration date.'

Contributed by C McE
Wife : 'Do you want dinner?'
Husband: 'Sure! What are my choices?'
Wife: 'Yes or no.'

Contributed by C McE
Wife: 'You always carry my photo in your wallet.. Why?'
Husband: 'When there is a problem, no matter how great, I look at your picture and the problem disappears.'
Wife: 'You see how miraculous and powerful I am for you?'
Husband: 'Yes! I see your picture and ask myself what other problem can there be greater than this one?'

Contributed by C McE
Girl: 'When we get married, I want to share all your worries, troubles and lighten your burden.'
Boy: 'It's very kind of you, darling, but I don't have any worries or troubles.'
Girl: 'Well that's because we aren't married yet.'

Contributed by C McE
A newly married man asked his wife, 'Would you have married me if my father hadn't left me a fortune?'
'Honey,' the woman replied sweetly, 'I'd have married you, NO MATTER WHO LEFT YOU A FORTUNE!'

Contributed by C McE
Girl to her boyfriend: One kiss and I'll be yours forever.
The guy replies: 'Thanks for the early warning.'

Contributed by C McE
A husband and wife are getting ready for bed.
The wife is standing in front of a full-length mirror taking a hard look at her reflection.
"You know, dear," she says, "I look in the mirror, and I see an old woman. My face is all wrinkled, my hair is grey, my shoulders are hunched over, I've got fat legs, and my arms are all flabby."
She turns to her husband and says,
"Tell me something positive to make me feel better about myself."
He studies hard for a moment thinking about it and then says in a soft, thoughtful voice,
"Well, there's nothing wrong with your eyesight."

Contributed by C McE
There was once a man and woman who had been married for more than 60 years.
They had shared everything. They had talked about everything. Nothing was held back.
Well, almost nothing. They had kept no secrets from each other except that the little old woman had a shoe box in the top of her closet that she had cautioned her husband never to open or ask her about.
For all of these years, he had never thought about the box, but one day the little old woman got very sick and the doctor said she would not recover.
In trying to sort out their affairs, the old man took down the shoebox and took it to his wife's bedside. She agreed that it was time that he should know what was in the box.
When he opened it, he found two crocheted doilies and a stack of money totaling $250,000. Holy Moley! He asked her about the contents.
"When we were to be married," she started, "my grandmother told me the secret of a happy marriage was to never argue. She told me that if I ever got angry with you, I should just keep quiet and crochet a doily."
The old man was so moved, he had to fight back tears. Only two precious doilies were inside the box! She had only been angry with him two times in all those years of living and loving. He almost burst with happiness.
"Honey," he said, "that explains the doilies, but.... what about all this money? Where did it all come from?"
"Oh," she said, "that's the money I made from selling the doilies.

Contributed by S B
During the wedding rehearsal, the groom approached the pastor with an unusual offer. "Look, I'll give you Lm50 if you'll change the wedding vows. When you get to me and the part where I'm to promise to 'love, honour and obey' and 'forsaking all others, be faithful to her forever'. I'd appreciate it if you'd just leave that part out." He passed the minister a Lm50 bill and walked away satisfied.
It is now the day of the wedding, and the bride and groom have moved to that part of the ceremony where the vows are exchanged. When it comes time for the groom's vows, the pastor looks the young man in the eye and says: "Will you promise to prostrate yourself before her, obey her every command and wish, serve her breakfast in bed every morning of your life and swear eternally before God and your lovely wife that you will not ever even look at another woman, as long as you both shall live?" The groom gulped and looked around, and said in a tiny voice, "Yes." The groom leaned toward the pastor and hissed, "I thought we had a deal." The pastor put the Lm50 into his hand and whispered back, "She made me a much better offer.

Contributed by Y & E