The Maltese Wedding is a beautiful occasion celebrated in style. A special thank you goes to Chev. Lawrence Collins O.S.J. and the Culture Committee of St.Catherine Band Club, Zurrieq for the information below.
See below photos of the re-enactment of an 18th century Maltese Wedding held in Zurrieq in 2008. At the bottom of this page are other scenes from days gone by. All photos may be clicked to enlarge. Join our Mailing List to learn when we update this section!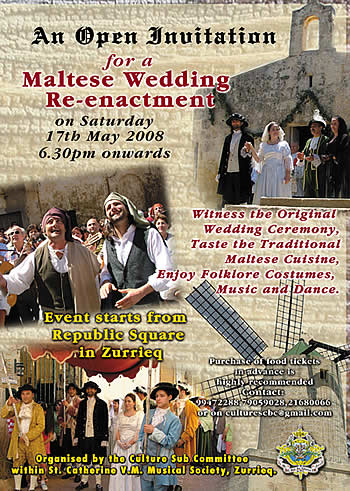 The re-enactors are mingling with the crowd in the main square of Zurrieq.




A mixture of re-enactors in their costumes and on-lookers Maltese and foreigners.




Mattew and his friend asking the matchmaker to have a word with Katarina's mother.




Mattew brought a folk singer to sing a serenade for his bride to be, Katarina.




There she is. Now we all know that we have a wedding to attend.




The beginning of the wedding march under the canopy starts here.




One of Katarina's best friends carring food and wine for the banquet.




The march had to take a pause for the well wishers to congratulate the couple.




Mattew and Katarina being wed by a priest on the parvis of an old chapel.




Lets make a toast. May the Lord bless Mattew and Katarina with many many children.




The food is great especially if there is wine and folk music on the side.


Other Scenes from Days Gone By

Lady returning from the fields after a hard day's work. She takes a lift on the horse cart driven by her husband.




Lace workers in the shade of the building in a narrow street.




The milk vendor. The milk is as fresh as it could be. Freshly squeezed.




The fisherman is preparing his fish traps for the coming season.



The miller waiting for the farmers to bring their harvest to the mill for grinding.