by Samantha Black

Soon To Be Brides! Sometimes we get so overwhelmed with all the choices and ideas we have for our wedding dresses. We tend to get worried if we are choosing the right gown, color, pattern or material. No one can blame us though, everyone wants to look their best on their wedding day.

BUT we have a good news for you. There is no more need to fret because you have us to the rescue. We have taken the honor of gathering the up and coming 2019 bridal gown trends for you. Now you can just sit back, relax and enjoy reading these collated fashion data we are very happy to share with you.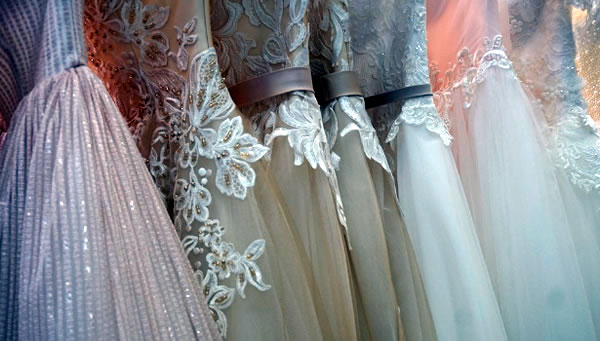 The Crop Top Saga Continues

Making a big comeback in 2018, retro crop tops paired with skirts, slacks and/or high-waisted pants have once again created a loud buzz in the fashion industry.

With midriffs bare again, designers foresee an incoming crop top frenzy on the red wedding carpet.


Jumpsuits, Anyone?

Who says you can't rock jumpsuits on the bridal aisle? For fashion and practical purposes, more and more brides are choosing to don a jumpsuit on their wedding day. Wedding Dress? Check. Wedding After Party Dress? Check, check!


Bows, Bows, Bows

Whether they be Small Bows, Big Bows, Medium Bows, we do not discriminate. Bows are back and they are here to stay. How delicate and how classy is this big comeback!

If you have watched the recently concluded Bridal Fashion Week, you would have noticed the many bows that celebrated it with us. The wedding dresses with statement bows in front were a crowd favorite!


Break The Monotony: Geometric Patterns

A rather unusual choice, geometric patterned wedding dresses makes for a promising choice. If you're the kind of person who is as unique as this patterned dress trend, donning this on will highlight your individuality.


Tiara: The Royal Wedding Mania

From princess to queen, this wedding is your day. Making a big splash this past few months is the tiara trend. Out with the 1980's, gigantic flower hair wreaths and in with the 2019 sparkling tiaras. Indeed, every bride is a queen.

Complete your royal wedding by coordinating with your party rentals and team up to create your very own fairy tale dream come true.


Long Sleeves Renaissance

Whether you have the royal weddings as your inspiration or you are just the really conservative type, this classic style never fails to stun. Characterized by volume, flowing and exaggerated cuts, this bridal gown trend will surely make you the stand out bride of the century.


The Lace Tattoo

With a touch of lace detailing and embellishment, this very welcome trend gives our brides that classy and sophisticated quasi-tattoo look. This is especially fitting if you want to highlight that porcelain white skin but still want to stay on the conservative side.


The High Slit

Daring but Classy! The stakes are high and so are your slits. This classy yet very sexy trend is making a boom not just in the Hollywood red carpet but also in the wedding red carpet. Show off your darling legs and own the night.


The Halter Show Stopper

If you have watched the famous royal wedding of Meghan Markle and Prince Harry, you know what we are talking about.

No, not the long sleeved wedding dress but the second dress! Meghan Markle gave us major nostalgia feels when she rocked that simple but sophisticated halter dress.


Shining, Shimmering, Splendid

Over-the-top sequin patterns and exaggerated metallic embellishments are in! The recent Bridal Fashion Week runway shone the brightest when these sparkly wedding dresses blinded the audience with their stunning grace and elegance.

Will you be having a wedding evening celebration? Well, this is the perfect choice. Tone down on the jewelry and let your dress put the stars to shame.


Wedding Capes?

Well, yes! Calling out all our fashion-forward and adventurous brides. Especially during winter time, wedding capes do not only provide added warmth and comfort to the bride but it makes for a stunning statement piece.

Whether you want a faux fur, a sheer boho vibe or the classic capelet look, you can customize this to fit your needs. A short cape cut will look astounding if your wedding dress is a simple flowing one.