Post written by Heather, Leeds Bridal

Angelina Jolie's wedding dress had that rare effect of being so surprisingly different, but at the same time, not so surprising at all.

For Angelina Jolie and Brad Pitt's nuptials at their home in France: Chateau Miravel in France, it made perfect sense that the wedding in all its forms, including the dress, would have their brood of children at the heart of it.

The dress, created by Atelier Versace takes personalisation to the next level, with many individual embroidered drawings created by the Jolie-Pitt children adorning the back of the skirt on the dress. To replicate this isn't as difficult as it initially looks, you'd let your children loose with fabric pens on several large pieces of white satin. Or, to achieve the embroidered effect, individual designs are scanned and fed into a digital embroidery machine and then sewn onto the satin pieces to create the skirt.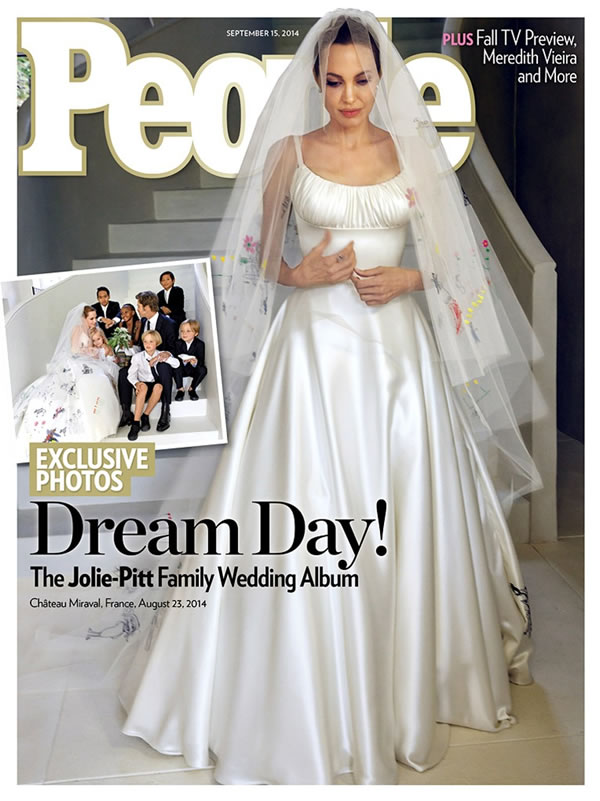 http://peoplemag.tumblr.com/image/96460479448​
Once you get past the intricately personalised skirt, the dress in its essence is incredibly simple.
The Fabric:
The dress is created in light ivory crepe-backed satin, to achieve the flowing and shiny effect. Although the dress appears to be almost white, it is a tone down from this, which makes it suitable for all skin tones, whereas pure brilliant white can create a washed out skin tone on lighter skin colours.
The Fit:
The dress gathers with ruching to the bust and the bodice is fitted incredibly tightly. A similar effect can be achieved by using rigiline boning under the bodice, or to use a stretch fabric for the main part of the bodice. The dress fastened with a concealed zip to retain the super-fitted nature of the bodice and the slimline straps helped the dress stay simple, with all eyes on those details to the back of the dress.
The Skirt:
The skirt uses godet pleats to achieve the voluminous effect, and it's likely that Angelina had layers of soft silk tulle underneath the crepe-backed satin to ensure the volume retained from the waist to the floor.
It's an undeniably iconic dress that will go down in history as one of the great wedding dresses, but if you leave the drawings to one side, what's left is a classic, elegant design that would work effortlessly on most body shapes.
--------------------------
About the author – Heather is co-owner of
Leeds Bridal
, a family run business based in Leeds, UK, with years of experience in making bespoke wedding dresses.