Reproduced from Bride&Co.

Congratulations on your 1st year anniversary!

The traditional gift is paper, photos, painting or a love letter, symbolising strength of the relationship. The modern gift is a clock to indicate time spent together. The precious stone to give as well as the anniversary color… is gold.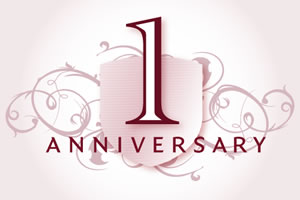 But enough about tradition and advice! What can you expect once you get to your first your of married life? The first wedding anniversary is a celebration of the couples' first 365 married days. It is a reminder of the past year's experiences that the couple has shared, of difficult situations that they overcame and of the love between them that has grown. Real brides reveal the ups and downs of newlywed life:


"My wedding day was pure bliss. We looked absolutely perfect… I had followed a strict diet and my gown fit me like a glove. A few weeks after the honeymoon, work and the duties of married life ate up my time until I stopped eating the right food & stopped exercising. We'd sit on the sofa after coming home from work and eat TV dinners. We both gained weight and looked at our wedding photos with regret. On our first anniversary we took the decision to return to our former selves… we cooked healthy and went out for walks that grew slowly longer. It's the best thing we could have done!"
Sarah V.

"We hadn't realised how pampered we had both been at our parent's houses. True that we used to take relative care of our rooms but the kitchen and sitting room at home were always "magically" clean! During the first few months of marriage, we fought regularly over who cleaned the house, who did the dishes, etc. Living in a studio flat didn't help as these things were all the time in front of our faces. We had different priorities, driving each other mad and getting frustrated with one another. On the eve of our first anniversary, we decided to sit down and list the things that were annoying us. It helped so much to list individual responsibilities and set a timetable with tasks. Things don't always go by the book but it's good to have an established routine to fall onto"
Tania M.

"The last few months before the wedding were so hectic that we barely spent time together. We thought the problem would disappear once we got married and lived under the same roof but boy was I so wrong! The wedding and honeymoon arrived and left, and our hectic life reclaimed us. It took a problem-solving session during our first anniversary to decide to reserve Saturday evening exclusively for our 'Dates' and spend quality time together."
Michelle A.G.

"Married life was fine until we arrived at the festive season. We had a hard time dealing with whom to go over to for Christmas in our first year. We wanted to please both families, so we invited the entire clan over for Christmas eve, then ended up going to two Christmas dinners! We barely arrived home and I'm pretty sure I wouldn't have been able to get up if I fell! We realized that we had to organize family visits so we got both families together, explained the situation and felt much better knowing that they would understand why we would have to alternate between them the next year."
Jennifer R.

"We had grandiose plans for the wedding itself and for our first home. Problem is that we didn't plan the financial aspect well. Close to 9 months of married life, we couldn't handle the loan payments any longer and had to sell off the place and move in with my parents. It was the best thing we could have done as I hadn't realised how hard we had been working to have enough to make the monthly bank payments, and how little we had been seeing of each other. We bought another smaller and more affordable place on the eve of our first anniversary and have been living happily ever since."
Dominique B.C.