by I Do! Magazine

If you still haven't decided on your honeymoon destination, why not try somewhere completely different? Josanne Cassar recently visited Poland's capital Warsaw, courtesy of the Westin Dragonara Resort Malta and thoroughly recommends it

If you love history and culture, wide-open spaces, quaint towns and beautiful, impeccably kept parks, then a trip to Warsaw can be a pleasant surprise.

We were there at the end of April, perfect spring weather when all you need is a cardigan during the day and a jacket for the evenings. The sun was out, flowers were blooming everywhere and the crisp air made it pleasant to walk around without getting all hot and bothered.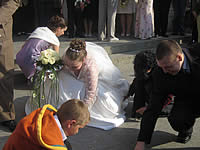 This is a city which fought its way back from total destruction after Hitler ordered it to be systematically demolished in retaliation for the Warsaw uprising of 1944. This means that everything you see was built after the war. Despite being given a 'death sentence', with 650,000 people killed and every house set on fire street by street; despite its museums and Royal Castle, libraries and churches being completely demolished, the unbelievable happened.

The fierce pride for their beloved Warszawa led the Poles to rebuild their city with a meticulous attention to detail. It is this pride which still resounds today and can be heard in the tones of the tourist guides who lead you around the famous monuments.

I think it was this palpable spirit of a city that had lived and survived such horrors, which impressed me most about Warsaw. The old town, with its cafes, cobbled streets, vibrantly coloured houses and bustling squares, is charming in the way which only European towns can be. And yet you are keenly aware that this was also the place which withstood the bombardment of the Germans for over a month.

In complete contrast is the modern part of Warsaw, with its blocks upon blocks of apartments built quickly in the '50s to house a displaced population desperate for accommodation. Wide avenues with modern high-rise buildings are close to vast parks such as the famous Lazienki Park where families flock on the weekend to relax. It's no secret that we all envied the wide-open spaces and luscious greenery which we so lack in Malta. Not to mention the peacocks!

The economic boom in Warsaw can be evidenced by the spurt of five-star hotels including the Sheraton Warsaw Hotel & Towers where we stayed, and the more recently built Westin Hotel. Eerily, as you walk or ride by taxi through the city, you realise that you are not too far away from the infamous Jewish ghetto wall, behind which half a million Polish Jews were imprisoned and starved to death.

Understandably, photographic tributes to Poland's most famous son, the late Pope John II are everywhere. In one museum, his last handwritten letter to his beloved compatriots dated Easter Sunday 2005 is proudly on display.

Last year, a Warsaw Rising Museum was built, a living breathing memorial which pays tribute to those who stood up against the Nazis. As you walk through the interactive displays, the smells and sounds of the war are all around you. "Those who were in the war are all dying off and it was important for us to finish this museum for those who are still alive," our guide told us. A short documentary using newsreel footage can be seen at one of the museums, showing how the city was courageously re-built after the devastation.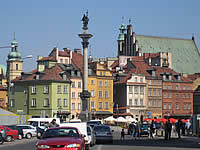 When you want to have a break from sight-seeing, an enormous shopping mall brings together all the well-known brand names – shopaholics will be pleased to know that you can get extremely good value for money. In fact, Warsaw is a whole is very reasonably priced, from restaurants to taxis which cost about Lm1.50 for a 20 minute ride. Not everyone speaks English so be prepared to use a bit of sign language and lots of pointing – personally, I find this to be all part of the experience of going to a foreign country. Organised tours are available, but if you are adventurous it is perfectly possible to explore the city on your own using the various tourist maps. In the evening there are plenty of pubs, restaurants, cafes and clubs to go to. Ask for the Warsaw Insider, a magazine which will tell you what's on and where to go.

The Sheraton Warsaw Hotel & Towers

A honeymoon deserves the very best and what's nicer than splurging on a five star hotel? Situated in the heart of the city, the Sheraton can offer you the best service for the holiday of your dreams. The room I stayed in was an Executive Club Lounge featuring the Sweet Sleeper Bed, tea and coffee facilities, satellite TV, iron and ironing board and a safe. If you really have to stay in touch with the office there are Internet, fax and modem facilities (although you're on honeymoon so forget about business!). For even more luxury you can stay on the Towers floor, where there's private check in and out, American breakfast served in the lounge, personal butler service, evening cocktails plus pressing and shoe shine service. If keeping fit is a priority, the health and recreation club is fully equipped to help you do your workout. A choice of buffet and Oriental restaurants offer various types of cuisine while a great live jazz band at Someplace Else pub had us dancing till the early hours of the morning.

The Westin

We were shown round this elegant, two-year-old hotel with its impressive glass lift which swoops you up to the 30th floor in seconds. We also dined at the beautiful restaurant with its mind-boggling array of continental, oriental as well as typical Polish dishes. A visit to the luxurious Presidential suite gave us a glimpse into the world of such VIPs as Sophia Loren who has stayed here. Also centrally located, The Westin in Warsaw can truly guarantee a honeymoon you will never forget.

Photos by Karen Mifsud