by BrideMalta.com (adapted from the Brides site)

Tents, umbrellas and many fingers crossed,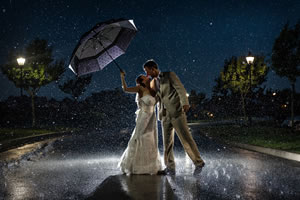 hoping for good weather on the big day. But is it all really doom and gloom? Here are 7 positive aspects to having rain on your wedding day, and we really think you'll see the silver lining as you think about it...


1. You will love your photos. Cute umbrellas, artistic photos, picture the rest... wow!



2. The perfect excuse to cuddle. Rain is romantic, so cuddle under a big umbrella as you hear the sweet patter of rain.



3. Your flowers may last a little longer. Less heat means that happy flowers take longer to wilt.



4. We all loves great stories. What seems like a disaster eventually becomes a funny story you'll tell the kids again and again.



5. Wait for the rainbow. Everything has an end and the perfect rainbow after the rain lends more beauty to your big day.



6. What about good luck? 'Sposa bagnata, sposa fortunata' goes the Italian saying. Well many cultures consider rain on the wedding day to be a sign of good luck so there may be something in it.



7. Wave good-bye to stuffy noses! Rain reduces pollen and decreases seasonal allergies, so both you and your wedding party may feel a lot better.


So be positive and enjoy your big day. After taking all the precautions you can, remember that nothing is truly guaranteed in life and you can choose to view the rain as a blessing in disguise... an opportunity to make your special day that little bit more special!