Original article by BrideMalta.com

Summer weddings are fun, but they can also be incredibly hot. We wear lovely suits and dresses that seem to generate heat. And if guests feel it, the wedding couple and their entourage feel it even more through multiple layers of clothing. Here are some tips to reduce the effect of the heat and make the best of a lovely time to get married in our beautiful islands: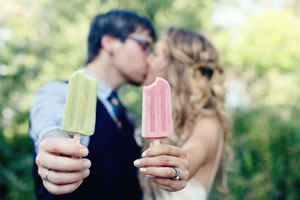 - Adjust the time. This may sound obvious but is your heart truly set on a morning or early afternoon wedding? Try and push the ceremony back so it's as late in the evening as possible.

- Keep it short. The idea is to have a relatively short ceremony (or parvis event after mass) and then bring the reception inside.

- Find a venue near water. Beach wedding, pool party, or on a boat? Sounds great! Note however that our humid Maltese climate may make it feel even more hot if there isn't a breeze so this idea may be a little risky.

- Shade, shade, shade. With many companies offering shade for rent, gazebos and tents make a lot of sense to escape from the sun's rays.

- Fans and parasols. These make lovely wedding souvenirs that don't cost the earth or provide them on the side in a bucket near the venue entrance. On a whim you might go creative and turn your wedding program into a foldable fan.

- Welcome drinks. Replace the glasses of bubbly with beautifully decorated fruit-infused ice water. Apart from the exotic touch, fruit like watermelon and mango, may help reduce body temperature.

- Hydration area. Inexpensive and very sensible, simply have a large table or two stocked with iced tea, plain and fizzy water possibly garnished with cucumber, lemons or mint, or lovely home-made lemonade.

- Cool treats. Discuss with your caterer the possibility of introducing occasional cooler treats. Tasty sorbet, chilled pasta and cool seafood are great options. Popsicles in glasses could be made from fruit, yoghurt, and pretty much anything you like. They look grand and keep your guests clean as they enjoy their delicious treats.

- Dress code. Breathable fabrics make all the difference and thoughtful invites could inform your guests that it's fine to dress for the heat with light cotton shirts, and sun dresses. Consider dressing your bridesmaids in light and airy fabrics, preferably opting for shorter or strapless styles.

- Bridal party survival kit. Put together small kit for each member of your entourage that includes such basic items as face blotters, a small sunscreen, a travel-size deodorant, fragrant body wipes and possibly baby powder. this applies to the grooms men too, and have their kits waiting at the reception venue.

And here's a final, more personal piece of advice. The wedding dress feels just as hot as it looks, so as a bride you should consider applying a light coating of baby powder to your inner thighs before putting on the dress to avoid chaffing.