by C. Doublesin at Hotel Phoenicia

It's love at beautiful sites for Dublin couple Christina Mitchell and Mark Anderson as they celebrate their wedding in Malta.

From the outside, and that's where the singletons get their perspective from, love looks like a tight fix which allows for little freedom of movement. And whenever giggling, dreamy lovers walk by hand in hand, these same singletons will make pretending-to-be-sick gestures and groan.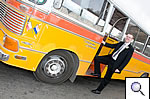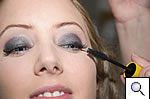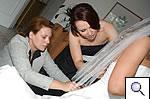 Yet from the inside, love is as plump and memorable as Proust's madeleine; as unpredictable as an old car which keeps you guessing every time you turn the ignition; and as gooey as a dessert that tastes as good as it looks. Love is guaranteed to blow the dust off your soul and frankly, there is nothing like enough of it, especially when you get to celebrate it on an island where, as Homer narrates in The Odyssey, the nymph Calypso pined and the hero Ulysses yearned for love.

A year ago, Dublin couple Christina Mitchell and Mark Anderson had no plans to get married in Malta. Yet while leafing through the papers, a competition grabbed their attention - the prize, a fairy tale wedding at the Hotel Phoenicia, Malta, was too good not to give the competition a shot. Moreover, both Christina and Mark's parents had visited the island more than once, and every time they returned home, it was with a luggage full of stories about the sights and sounds of the Mediterranean. True to a fairy tale ending, Christina and Mark's entry was the winning one.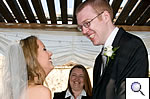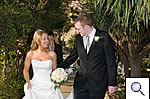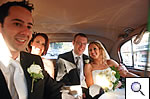 Christina, a holistic therapist, and Mark, a software developer, first met in high school. Then they both went to college, met again completely by chance, and moved in together. Five years later, they're saying their vows in the Hotel Phoenicia's seven-acre gardens, where blooms, trees, Valletta's historic fortifications and the magnificent Marsamxetto Harbour create a view with a phew.

Newly refurbished, the Hotel Phoenicia is situated right at the entrance to Valletta, the Maltese capital which, with 320 monuments, including the baroque jewel that is the St. John's Co Cathedral and the stocky, 500-year old bastions, is a World Heritage Site and one of the largest concentrations of history in the world. The Phoenicia was built in 1939 with the aim of creating Malta's premier luxury hotel and, seven decades later, is still the grand dame of hotels, twinkling with a unique elegance and making a discreet whoopee for the newly married couple.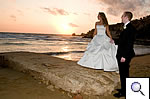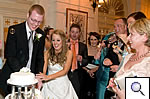 "It's not just our wedding but the entire stay that has been simply wonderful," says Mark. "Valletta is such a historic gem - its architecture and history are simply inspiring. And with such a wealth of beaches minutes away from anywhere on the island, we just couldn't give scuba diving a miss."

Christina agrees. "The people at Hotel Phoenicia are simply wonderful and put their heart into making our wedding a day to cherish for ever. Chrystelle Doublesin, the wedding planner, took such great care of us, and Charles Azzopardi, the General Manager, gave us a wonderful painting by artist Vania Goshe as a wedding present. I think I already know where we'll be celebrating our anniversary."