Testa & Tesmar Productions bring you a selection of exceptional packages at affordable prices.
"Photography is a way of feeling, of touching, of loving. What you have caught on film is captured for ever... it remembers little things. Long after you have been forgotten everything."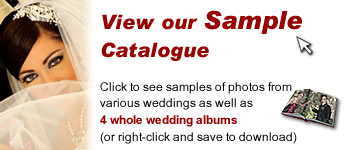 CLASSIC DIGITAL WEDDING BOOK PACKAGES
Classic Digital Wedding Book with Full HD 1080i Video Filming
- The Digital Wedding Book with Case
- 70 Page (35 Slides) Digital & Manipulation incl. All Lamination (Max of 180 photos mixed)
- Professional Full HD 1080i Video Camera Filming
- Full Digital Computer Editing
- Video is given on 4 DVD's and 1 Blu Ray Disc incl. Menus & Chapters
- Free Pre-Wedding Video & Photos
- Free Post Wedding Photos
- One Free 24"x36" Enlargement Photo incl. Lamination
- Free Personalised 12"x8" Padded Guest Book
- 2 Free Replica Mini Album
- All images will be given on DVD in JPEG format in full resolution without watermark
- Digital Wedding Photo Album will be given Free on a slide show DVD
- No over-time charges- No hidden Charges
FREE WITH THIS OFFER
2 Photos 8"x12" printed on Glass or Canvas
PRICES OF PACKAGES ACCORDING TO ALBUM SIZE
Package with Digital Album Size 12"x18" - Price € 1,100
(only 1 free replica mini album with this package)
Package with Digital Album Size 12"x24" - Price € 1,450
Package with Digital Album Size 14"x28" - Price € 1,550
Package with Digital Album Size 16"x24" - Price € 1,550
Package with Digital Album Size 16"x32" - Price € 1,680
NEW DIGITAL WEDDING BOOKS PACKAGES
Signature Range Album Package
Glossy Range Album Package
Panoramic Album Package
Landscape Crystal Album Package
For more information visit the shop in Hamrun.
TRADITIONAL PHOTOS PACKAGES
with Full HD 1080i Video Filming
- Photo Service
- Professional Full HD 1080i Video Camera Filming
- Full Digital Computer Editing
- Video is given on 4 DVD's and 1 Blu Ray Disc incl. Menus & Chapters
- Free Pre-Wedding Video & Photos
- Free Post Wedding Photos
- One Free 20"x24" Enlargement Photo incl. Lamination
- All images will be given on DBD in JPEG format in full resolution without watermark
- No over-time charges - No hidden charges
Above Package with 110 Photo Prints size 6"x8" incl. B&W, Colour and Sepia - Package Price € 815
or
Above Package with 110 Photo Prints size 6"x8" +30 photos size 8"x10" incl. B&W, Colour and Sepia - Package Price € 900
or
Above Package with 110 Photo Prints size 8"x10" incl. B&W, Colour and Sepia - Package Price € 920
VIDEO SERVICE ONLY
- FREE Pre-Wedding Video
- Professional Full HD 1080i Video Camera Filming
- Full Digital Computer Editing
- Video is given on 4 DVD's and 1 Blu ray Disc incl. Menus & Chapters
- No over-time charges - No hidden charges
Package Price € 500




Service in all Packages includes:
Pre-Wedding, Groom & Bride Residence, Church, Reception & Post Wedding
Filming of Video with 2nd Extra Camera for € 150 (with any package)