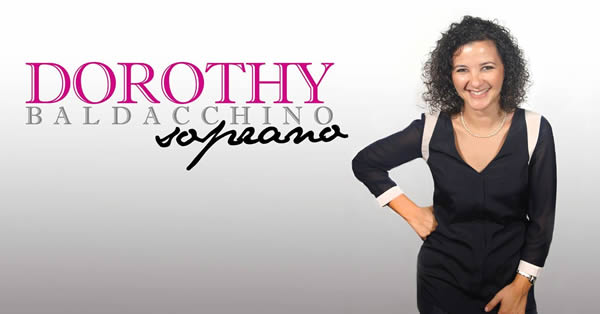 Dorothy Baldacchino's soprano has a pure, agile crystal quality. Dorothy studied voice technique under the mentorship of soprano Miriam Cauchi, and is perfecting her art with the Edinburgh based mezzo Joan Busby.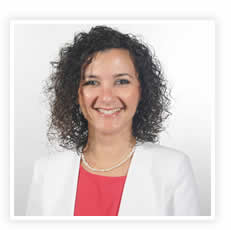 Dorothy read a B.A. (Hons) in Theatre Studies at the University of Malta, and has gained theatrical experience both as a singer-actor, as well as artistic assistant director in opera productions both locally as well as abroad. Dorothy features in several solo recitals, concerts as well as opera productions.

- Wedding Mass
- Civil Ceremonies
- Thanksgiving & Anniversary Mass
- Funerals
- Vocal Recitals & Concerts
- Drama & Voice Workshops
- Musical Theatre & Opera


Wedding Mass Testimonials

We would like to thank you for your awesome performance at our wedding. We are very grateful for the great professionalism and positive attitude you have showed from the beginning. We are incredibly satisfied by your performance and also had many guests comment on your incredible voice and ability. We wish you the best of luck for your future and would recommend your services to anyone for a special occasion. Thanking you once again. -- Marica and Cedric Debattista

I really must tell you how much we enjoyed your singing in our daughter''s wedding mass. Your rendition of the ''Ave Maria'' was absolutely impeccable. We received many comments from our guests complimenting your wonderful voice and your interpretation. Many thanks for your contribution in making our daughter''s wedding an unforgettable occasion. -- Natalie & Mario Ellul

Dorothy Baldacchino was very professional and approachable. We would recommend her highly and would promise that anyone will be mesmerised by her Ave Maria adaptation! We were also very lucky to hear her sing before our actual wedding day which confirmed that we were making the right choice in selecting her for our special day. -- Mark and Catherine Schembri


Listen to samples:

Panis Angelicus Live

Ave Maria Live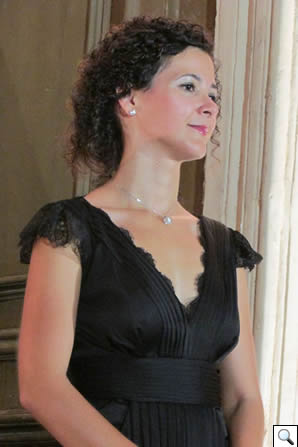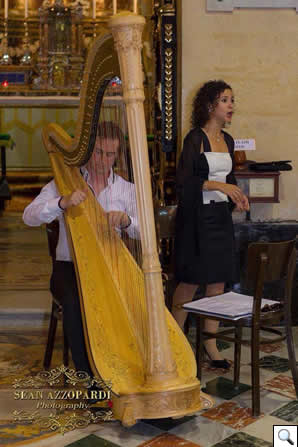 Newspaper Reviews

Dorothy Baldacchino bubbles with personality and as if to the stage born. Her utterly mischievous face stood her well in Pergolesi's Stizzoso, mio stizzoso & A Serpina Penserete. She has a pleasant timbre, with a very clear and well-pitched voice and sails well from the middle to the top. In Mozart's Un moto di gioia she employed a nice legato and I found her overall phrasing here much better. She shows particular promise. -- Critic Albert Storace, The Sunday Times, May 16, 2004.

I found Ms Baldacchino''s voice stupendous. Her performance was zealous and emotional, a treat to behold. -- Online Blogger Critic Noel Tanti for Vaudeville Circus, 2010.

Pert, petite and with a very outgoing and communicative personality, [Dorothy Baldacchino] has a pretty flexible voice which she uses extremely well. She sings with very good diction and has the ability to convey and project very clearly the mood behind every phrase and word she sings. A singer definitely worth encouraging. -- The Sunday Times, November 30, 2008.

Young soprano Dorothy Baldacchino has a vivacious personality and that stood her well in Bel Piacere, which had the right balance of tasteful exuberance. Here amid the shady woods from Cleopatra was her other piece, sung in an equally expressive manner. This is a promising singer whose top and middle reaches are nicely shaping along. -- The Sunday Times, November 13, 2005.

Dorothy Baldacchino has a pleasing voice with a strong and beautiful top register. She did well in all her arias in this recital, her best being Stizzoso, mio Stizzoso from Pergolesi. Her interpretation was fresh and she managed to portray the character very vividly. --Torca, October 12th, 2003.

Baldacchino has a pleasant voice with a golden texture, certainly very promising. Her contributions were all from the 18th century opera repertoire which she sang with great gusto. -- The Sunday Times, October, 2003.

Bubbling with a lot of personality and panache there was Dorothy Baldacchino in Pergolesi's Stizzoso. A promising youngster and with something of an edge too! -- The Times of Malta, January 30, 2001.