Souvenirs
Ivory & Co.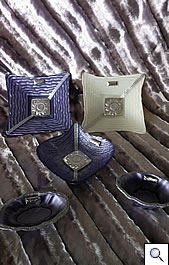 At Ivory & Co. you can find a large selection of exclusive souvenirs imported from all over Europe.

At Ivory & Co. you will find
• New Souvenirs stocked on a regular basis
• Most souvenirs come already in boxes
• Starting price from only 95c inc. Box
• Boxes can be sold separately

You are spoilt for choice at the souvenir department!
24-carat gold plated and silver plated items, silverware including Maltese silver 925, Murano glass, Mouthblown glass, Porcelain with silver, Glassware with silver, Crystal with swarovski components and much more.

Item are brought over from Austria, Murano and beautiful mouthblown glass from Italy and Germany.

Most items are in stock. If not, simply allow 6-8 months. The professional staff at Ivory & Co. is there to assist you and make sure you leave with the right souvenirs. So head down to this stylish shop, to make sure you give your guests the right memento of your special occasion.
Contact Details
Ivory & Co.
Notabile Road
Attard

Let others know about this page! Share it: