Faith & Religion
Information: The Franciscan Conventuals began building a church in Burmarrad for the people living in the area, as the parish church of St Paul's Bay was too far away for them. The church dedicated to the Immaculate Heart of Mary was opened in 1964 and became a parish church in 1971.
Name: Parish Church of the Immaculate Heart of Mary Dedication date 30 May 1964
Priest: Parish Priest Rev Donald Bellizzi OFM Conv.
Office Address: Burmarrad Road Burmarrad SPB 9065 Telephone 21573045 Fax 21578118
Office Hours: At Call
Masses: Sundays and Feast Days: 6.00, 8.30 am, 6.15 pm in winter, 7.00pm in summer Saturdays Evenings: 6.15 pm in winter ; 7.00 pm in summer Weekdays: 5.30, 6.15 am ; 6.15 pm in winter; 7.00pm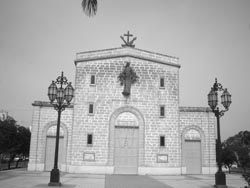 Other information on churches under this parish: None

Let others know about this page! Share it: