Faith & Religion
Information: The Dominican church in Valletta was declared "the principal parish and matrix of the whole of the new city" by Pope Pius V through his Apostolic Bull Ex Debito Pastoralis. On the 25th May 1816 it was elevated to the dignity of a Minor Basilica. The original church, constructed by Girolamo Cassar, had to be pulled down some two hundred years later on account of the 1693 earthquake which damaged the church extensively. The new church was consecrated on the 15th October 1889.
Name: Parish Church dedicated to Our Lady of Fair Heavens Dedication date 15 October 1889
Priest: Parish Priest Rev. Tonio Mallia Milanes O.P.
Office Address: Saint Dominic Street Valletta VLT 1603 Telephone 2124 7535; 2123 4079 Fax 2124 8253
Office Hours: Mondays, Tuesdays, Saturdays 9.30 - 11.00 am Wednesdays and Fridays 5.00 - 6.00 pm
Masses: Sundays and Days of Obligation: 7.00; 8.00; 9.00; 10.00; 11.30 am; 5.15 pm Saturday Evenings: 6.15 pm Weekdays: 7.00; 8.00; 9.00 am; 6.15 pm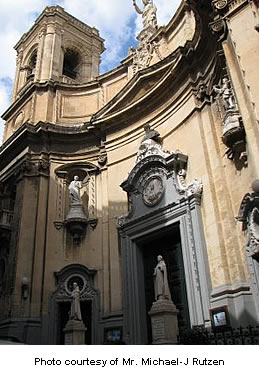 Other information on churches under this parish: Santuary - Basilica of Our Lady of Mount Carmel The Church was built in 1570 and for thirteen years it served as one of the parish churches in Valletta till the Parish Church dedicated to Saint Paul was built. The image of the Blessed Virgin Mary, depicted on the altarpiece was crowned in 1881 and the church was declared a Basilica in 1895. In 1958 the Basilica was rebuilt. It was blessed in 1981. Priest in charge Rev Martin Schembri O. Carm. Address Convent of Our Lady of Mount Carmel West Street Valletta VLT 1535 Telephone 2123 3808 Holy Masses Sundays and Feastdays: 6.00, 7.00, 8.00, 9.00, 10.00, 11.30 am and 6.30 pm Saturday Evenings: 6.30 pm Weekdays: 7.00, 7.30, 8.00, 8.30, 10.00 am; 6.30 pm Church dedicated to Our Lady of Victories It was the first church to be built in Valletta and the foundation stone was laid on the 28th March 1566; slight changes were made in the church in 1752, and in 1837 it was used as a garrison church for Catholic soldiers stationed in Malta. The monument of the Venetian admiral Angelo Emo, who died in 1792 can be seen in the church. The main altarpiece depicts the Birth of the Blessed Virgin Mary. Priest in charge Mgr Anthony Galea Telephone 2124 5680 Holy Masses Saturday Evenings: 7.00 pm Mondays to Fridays: 8.15 am Eucharistic Adoration every Tuesday till 11.45 am Church dedicated to St Catherine d'Italia The church was built in 1576 by the Italian Knights of St John. Today it is the parish church of the Italian community in Malta. Priest in charge Rev Gino Gauci Holy Masses Sundays and Feastdays: 9.45 am (Italian); 11.00 am (Arabic) Weekdays: 7.15 am (Maltese) Church dedicated to St Barbara The present sacristy was part of the original church built in 1573. The church was rebuilt in 1739. During the time of the Order of St John, it was the church of the bombardiers and many of them are buried in the crypt. In 1904 a statue of the Blessed Virgin Mary was placed in the facade of the church to commemorate the 50th anniversary of the proclamation of the Dogma of the Immaculate Conception. Today it is the parish church for the english, french an german speaking residents in Malta. Priest in charge Rev Charles Carabott Telephone 2165 1057 E mail engpar@global.net.mt Holy Masses Sundays and Feastdays: 10.00 am (French) 11.00 am (German) 12.00 (English) 5.30 pm (Tegalo English) Weekdays: 11.00 am (Maltese) Church dedicated to St James This church was the National Church of the Knights of Castille, Leon and Portugal and was built in 1710. Before the last war, the church was for several years the seat of the Institute for the teaching of religious doctrine to the children of the middle class families. Restoration works were carried on this church and it was re-opened to the public in 1998. Priest in charge Mgr Joseph Pace Sagramentini Church The Church belonged to the Adoration Sisters but when the Sisters left Malta, the Franciscan Sisters of the Sacred Heart took over and continued the daily Exposition of the Blessed Sacrament from 7.00 am to 4.00 pm. The Dame di San Vincenzo and the Opera dei Tabernacoli meet in the convent attached to the Church. Holy Mass Daily: 6.30 am Church dedicated to Our Lady of Damascus The church was built between 1576 and 1587 by the Rhodian Noble Giovanni Kalamias on the site donated by Grand Master Pietro del Monte (1565 - 1572). During World War II it was destroyed on 24th March 1942, but was rebuilt and consecrated on 15th August 1951 by H.E. Mgr George Kalavassy, Bishop of the Greek Rite. The treasures of this church are the Icon of Our Lady of Damascus, which was crowned in 1931, on the 15th Centenary of the Council of Ephesus (A.D. 431). It was brought over by some Greeks who accompanied the Knights of St John when they were expelled from Rhodes in 1523. The other Icon is that of the Virgin Eleimonitria. During the Second World War more than 30 Icons of different sizes were lost under the ruins of the church. These were replaced by over than 30 new Icons, mostly the work of the Russian artist Gregorio Malzteff (1881 - 1952). But one can still admire the precious Icon of the Depositon from the Cross, a Crucified Christ made by the local painter Anton Inglott and the Icon of the Nativity of the Blessed Virgin made by the contemporary Ukranian artist Giovenale. Priest in charge Papas Vito Borgia Address Greek Catholic Church "Our Lady of Damascus" 132 A, Archbishop Street Valletta VLT 1444 Telephone 2123 7872 Holy Liturgy Sundays and Feastdays: 9.00 am Weekdays: 7.30 am Church and Monastery of St Catherine Priest in charge Rev Joseph Zammit O.S.A. Holy Mass Daily: 7.30 am

Let others know about this page! Share it: