Faith & Religion
Information: The discalced carmelites built a priory and a church in ta' xbiex in 1948 on a plot of land given to them by Baron Pietro Paolo Testaferrata Moroni Viani. The church was opened for worship in 1958 and became the parish church of the locality in 1st June 1969. It was dedicated in 1989.
Name: Parish Church dedicated to St. John Of The Cross Dedication Date: 1 June 1989
Priest: Parish Priest Rev. Victor Mallia O.C.D.
Office Address: 16, Sir Temi Zammit Avenue Ta' Xbiex XBX 1015 Telephone 2133 2280 Convent 2131 7001 Office 2133 2796 Fax
Office Hours: Mondays, Wednesdays and Fridays 5.00 - 7.00 pm Tuesdays 8.30 - 9.30 am
Masses: Sundays and feast days: 7.00, 8.30, 10.00 (in English) 11.30 am; 6.00 pm Saturday evenings: 6.00 pm Weekdays: 7.15, 8.30 am; 6.00 pm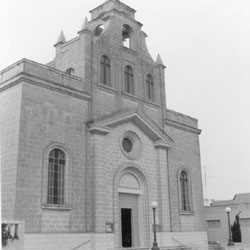 Other information on churches under this parish: None

Let others know about this page! Share it: