Faith & Religion
Information: Birkirkara is one of the ten parishes which existed in 1436, the year of the Rollo drawn up by the bishop of Malta, Senatore Mello. The parish was dedicated to St Helen, and this was also the titular saint of the church built in the 18th century and still existing today. The church became a Collegiate church in 1630 and a Minor Basilica on the 18th January 1950.
Name: Collegiate Parish Church of St Helen
Priest: Provost Archpriest: Dun Anton Cassar.
Office Address: 4 Sanctuary Street, B'Kara BKR 2304 Telephone 21444725 Office 21442225 Home
Office Hours: Mondays, Wednesdays, Fridays 10.00 am - 12.00 am 05.00 pm - 07.00 pm
Masses: Sundays and Feast Days: 6.00, 7.00, 8.00, 9.15, 10.30, 12.00 am and 6.30 pm Saturday Evenings: 5.30, 6.30 pm Weekdays: 6.00, 7.00, 7.45, 9.00 am and 6.30 pm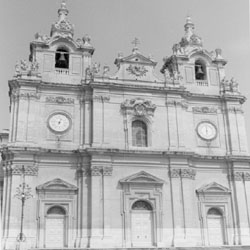 Other information on churches under this parish: Sanctuary of Our Lady Tal-Herba The sanctuary was built in 1610 in an area where an old church had existed; it was dedicated by Bishop Labini on the 23rd March 1783. In 1923 the building was enlarged and today hardly anything remains of the 1610 church. The image of Our Lady was crowned on the 7th August 1910. Marriages may be held in the sanctuary. Priest in charge Provost Archpriest Holy Masses Sundays and Feast Days 7.15 am First Saturday of the Month 4.30 pm Weekdays: 6.30 am Victory Church Priest in charge Rev Can Charles Gauci Tel: 21440416 HOLY MASSES Sundays and Feast Days 6.45 am, 10.15 am Saturday Evenings 6.00 pm Weekdays 7.00 am, 6.00 pm St Roche's Church The first church dedicated to St Roche was built in 1593, but Bishop Balaguer closed it in 1659 it was rebuilt after the 1676 plague and rebuilt again in 1863. Today St Rita of Cascia is venerated in this church. Priest in charge Provost Archpriest Holy Masses Sundays and Feast Days 8.30, 10.00 am Mondays to Saturdays: 5.00 pm Wed, Thurs and Fri 10.00 am Thursday 7.00 pm Church of St. Anthony and St. Catherine The church was built in 1571 but was closed by Bishop Balaguer in 1659; rebuilt again in 1828 it is today a centre for the Eucharistic apostolate. Priest in charge Rev Can Anton Mallia Borg Tel: 21448035 Holy Masses Weekdays 9.30 am Eucharistic Adoration Mondays, Wednesdays and Fridays till noon St Paul's Church In 1538 a church was built in an area where, according to tradition, St Paul had preached; the church was rebuilt in 1852. Priest in charge Rev Can Joseph Micallef Tel: 21488234 Holy Masses Sundays and Feast Days 7.00 am, 8.30 am Saturday Evenings 7.20 pm Weekdays 7.15 am, 7.20 pm St Francis of Assisi Church The Franciscan Conventuals during the war, in 1941 opened a small chapel in a villa in Msida Road, for the benefit of the many refugees who had settled in Birkirkara. In 1953 they started building the present church and friary and a collage for their students. Marriages can be celebrated in this church. Priest in charge Rev Francis Deguara OFM Conv Telephone 2144 1928 Holy Masses Sundays and Feastdays: 6.30, 8.00, 9.30, 11.00 am and 6.30 pm Saturday Evenings: 6.30 pm Weekdays: 6.30, 7.30 am and 6.30 pm Public Holidays during the week: 6.30, 7.30, 8.30 am and 6.30 pm St Dominic Savio's Oratory The Oratory was built in 1910 by Rev Michael Sammut. His benefactors were Michael and Guilia Casolani as well as Alphonse Maria Galea and originally it was run by the Salesian Fathers. These were followed in 1912 by the Christian Brothers (Freres) who stayed on for three years. In 1927 the Fathers of the Missionary Society of St Paul took over the running of the Oratory. Marriages may be celebrated here. Priest in charge Rev Nicholas Schembri MSSP Telephone 2144 1917 Holy Masses Sundays and Feastdays: 7.30 and 11.30 am Weekdays: 7.00 am and 6.00 pm Blessed Nazju Falzon Chapel c/o Frate Francesco Home, 55 Mannarino Road, Birkirkara. The chapel serves as a pastoral support for the youths residing in the Home as well as for the inhabitants of the area. The chapel, dedicated to Blessed Nazju Falzon was officially inaugurated on the 30th May 2001 and is the first chapel dedicated to a Maltese declared "blessed" by the Church. Today Frate Francesco Home is known as "Dar il-Qawsalla" (Rainbow House) and is run by the Vincenzo Bugeja Consortium for Family Refugees. Priest in charge Rev John Azzopardi OFM Telephone 2144 6643 Holy Masses Sundays and Feastdays: 9.00 am Mondays to Saturdays: 5.30 pm First Friday of the month: 8.30 am and 5.30 pm

Let others know about this page! Share it: