Faith & Religion
Information: In 1872 a priest from Valletta, Rev. Paul Vella, built a church in Sliema with the idea of dedicating It to our Lady of the Sacred Heart. In 1881 the church was given to the friars minor, and in 1918 It became a parish church.
Name: Parish Church Of Our Lady Of The Sacred Heart Of Jesus
Priest: Parish Priest: Rev Goerge Bugeja O.F.M.
Office Address: Church Street Sliema SLM 1135 Telephone: 2131 3505 Office 2133 1183 Friary 2734 6686 Fax
Office Hours: Mondays 9.30 - 11.00 am 5.00 - 7.00 pm Wednesdays 9.30 - 11.00 am Fridays 5.00 - 7.00 pm
Masses: Sundays And Feast Days: 6.30, 8.00, 9.30 (Children Mass), 11.00 am; 6.30 pm Saturday Evenings: 5,00 P.M. (October To June); 6.30 P.M. Weekdays: 6.45, 7.30, 8.15, 9.00 am; 6.30 pm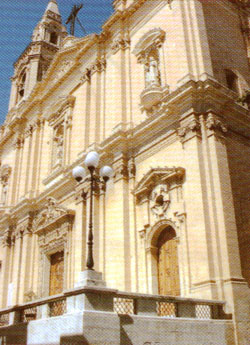 Other information on churches under this parish: Chapel Of The Franciscan Sisters The Chapel Of St. Elizabeth's School of the franciscan sisters of the sacred heart is daily open To the public for mass at 6.15 a.m. On school days and at 6,30 a.m. on weekdays. Chapel Of Jesus the Friend Slightly less than fifty years ago the friars of our lady of the sacred heart parish in Sliema opened a house in rose street for the teaching of christian doctrine. For twenty one years Fr. Mariano Vella O.F.M. taught Christian religion and said mass in this house. Between 1993 and 1994, Fr. Bernard Bartolo O.F.M, demolished the old house and in its place built a chapel and A pastoral centre dedicating them to jesus our friend. This area of sliema now belongs to the Balluta parish, but the franciscan friars are still responsible for the chapel and pastoral centre. Rose Street today is known as Fr Mariano Vella Street. Priest in charge Rev Richard Grech O.F.M. Address Rev Mariano Vella OFM Street Sliema SLM 1303 Holy Masses Schooldays: 6.30 am Other days: 7.00 am

Let others know about this page! Share it: