Faith & Religion
Information: Siggiewi was already a parish in 1436 but hardly anything has survived of the original church. The present church took thirteen years to build and is dedicated to St. Nicholas of Bari. In 1862 the church was enlarged according to plans drawn up by Dr. Nikol Zammit.
Name: Parish Church dedicated to St Nicholas of Bari Dedication date: 10 May 1729
Priest: Archpriest Rev Albert Buhagiar
Office Address: 37 Parish Street Siggiewi SGW 1530 Telephone 2146 0827 Fax 2146 1597
Office Hours: Mondays 4.30 - 6.00 pm Tuesdays 10.00 am - 12.00 Wednesdays 9.30 am - 12.00 4.30 - 6.00 pm Fridays 4.30 - 6.00 pm Saturdays 9.30 - 11.00 am
Masses: Sundays and Feast Days: 6.00, 7.00, 8.00, 9.30, 11.00 am; 5.30 pm Saturday Evenings: 5.15, 6.30 pm (winter); 5.45, 7.00 pm (summer) Weekdays: 5.30, 6.15, 7.00, 8.00 am; 6.30 pm (winter); 7.00 pm (summer)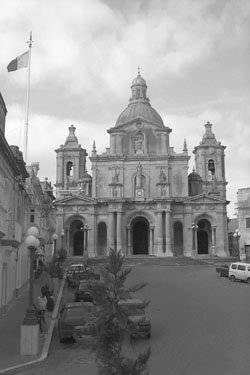 Other information on churches under this parish: Holy Trinity Pastoral Centre The Centre was established to organise pastoral activities among people residing in a recently developed area. Holy Masses Sundays nd Feast Days: 8.15 am Wednesdays and Fridays: 7.00 pm St. Mark's Church The church was built in 1608 on the site of an earlier church. Priest in charge Rev George Grima Holy Masses: Weekdays: 7.30 am Church of Our Lady of Divine Providence The church is situated in the locality where once there was the village of Hal Kbir; the church of this village was dedicated to the flight into Egypt and it was closed by Bishop Alpheran. In 1747 a new church was built in the locality and blessed in 1753. In 1815 a portico was added to the church to stregthen it after suffering damages through lightning and an earthquake. St. Mary's Church at Hal Xluq The church was built in the 15th century. Of the village of Hal Xluq nothing remains except a palace now used as a farmhouse, and a few scattered houses. The feast is celebrated on Sunday following the 15th August. Church of Our Lady of Mount Carmel at Fawwara The church belongs to the Confraternity of Our Lady of Charity at St. Paul's church, Valletta; it was built in 1669. Dar tal-Provvidenza In 1962 Malta Catholic Action took over the Navy Rest Camp at Siggiewi to use as a summer camp for children attending Catholic Action Centres. In 1965 Mgr M. Azzopardi started building on the site three seperate homes for disabled persons: Villa Mons. Gonzi for children, Villa Papa Luciani for semi-independent persons, and Villa Papa Giovanni for adults. Mass is celebrated daily in the chapel. Director Mgr Lawrence Gatt B.A., Lic.D., J.C.D. Holy Masses Sundays and Feast Days: 10.00 am Weekdays: 4.00 pm Chapel of the Annunciation at Fawwara The church was built in 1619 and closed by Bishop Balaguer in 1658; it was rebuilt in 1716 and is situated on the Gebel Ciantar heights at the entrance of Fawwara. Chapel of the Annunciation at Ta' l-Gholja The church was first built in 1430, but was rebuilt in 1464 and again in 1650; destroyed by the 1693 earthquake it was rebuilt from funds provided by the sailors serving on the Order's galleys; destroyed again by an earthquake in 1856 it was built again a year later. Chapel of St. John the Baptist The church was built in 1730 together with a residence for the priest in charge and a Capuchin hospital. The church was officiated by the Capuchins during the war. The feast is celebrated on the last Sunday of August. St. Mary's Church at Cwejra The church was built in 1742 by the Vittoriosa Dominicans on a piece of land given to them by Grand Master Despuig.

Let others know about this page! Share it: