Faith & Religion
Information: The old church of St. Venera was given to the Carmelite friars in 1912, and six years later it became a parish church. Because of the rapid increase of the population in the locality the friars decided to build a new church on the main road to Mdina. The foundation stone of the church was laid on the 6th October 1990, and the new church is now the parish church of the locality.
Name: Parish Church of Saint Venera
Priest: Parish Priest: Rev. Alex Scerri O.Carm.
Office Address: Parish Street, Santa Venera SVR 1261 Telephone 2148 2851
Office Hours: Monday to Thursday 8.00 - 9.00 am 5.00 - 6.00 pm
Masses: Sundays and Feast Days: 6.00, 7.00, 8.00, 9.00, 11.30 am; 6.00 pm Saturday Evenings: 6.30 pm Weekdays: 6.00, 7.00, 8.30 am; 6.30 pm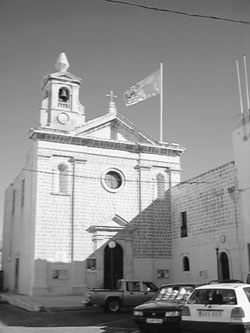 Other information on churches under this parish: St. Venera old Church Priest in charge: Rev. Robert Farrugia O.Carm Telephone 2148 4053 Address St Venera Square Santa Venera, SVR 1681 Holy Masses: Sundays and Feast Days: 6.30, 7.30. 8.30, 9.30, 10.30 am; 6.00 pm Saturday Evenings: 5.00, 6.00, 7.00 pm Weekdays: 6.30, 7.15, 8.45 am; 6.00 pm St. Joseph Church St. Joseph Institute was founded by Mgr F. Bonnici: at first the boys in the Institute lived in a house in Hamrun, but it was soon realised that the house was too small and through the efforts of Rev. George Bugeja a piece of land was acquired from the Government to build the Institute; the Institute's church was added at a later date. For a short period the Christian Brothers took care of the institute but today this is being done by the St. Paul's Missionary Society. Dedication date: 14 May 1916 Priest in charge Fr Frankie Cini M.S.S.P. Telephone 2124 5046; 2123 1252 Address St Joseph Home St Joseph High Road Santa Venera SVR 1010 Holy Masses Sundays nd Feast Days: 8.00 am Saturdays: 7.00 am; 7.00 pm Weekdays: 7.00 am Fridays: 7.00 am; 6.30 pm

Let others know about this page! Share it: