Faith & Religion
Information: St. Paul's bay has always been a summer resort, and with the increase of summer residents at the beginning of the present century St. Paul's Sanctuary became too small. The Countess Anna Bugeja,in remembrance of the 1900 Holy Year, built a church dedicated to the Sorrows of Our Lady and gave it to the Franciscan Conventuals. The church became a parish in '1905 and was cosiderably enlarged in 1960-1979.
Name: Parish Church of Our Lady of Sorrows Dedication date: 8 ta' April 1979.
Priest: Parish Priest Rev Joseph Cilia O.F.M.Conv.
Office Address: Tower Street St Paulís Bay SPB 3340 Telephone 2157 9266 Office 2157 3445 Friary 2157 4443 Fax
Office Hours: Fridays 9.00 - 11.30 am 4.30 - 6.00 pm Saturdays 9.00 - 11.30 am
Masses: Sundays and Feast Days: 6.00, 7.15, 8.30, 9.45 am; 11.00 am (English); 5.00 pm (winter); 6.00 pm (summer) Saturday Evenings October to June: 6.30 pm Saturday Evenings July to September: 6.00 and 7.30 pm Weekdays October to June: 6.00, 6.50, 7.45 am, 6.30 pm Weekdays July to September: 6.00, 6.50, 7.45, 8.30 am; 6.30 pm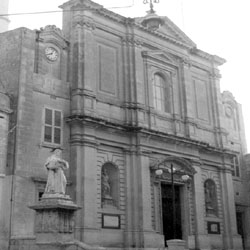 Other information on churches under this parish: St. Anne's Church at Pwales This is a very old church which had remained closed for a long period but was reopened in 1672; it suffered considerable damage during the French landing in 1798. Priest in charge Parish Priest Church of Our Lady of Mount Carmel Priest in charge Parish Priest Telephone 2157 3445 Holy Masses Sundays and Feast Days: 8.00 am Saturday Evenings: 5.00 pm (winter); 5.30 pm (summer) Weekdays: 5.30 p.m. (April to September); Weekdays: 5.00 pm (October to March) - Wednesdays only Church of Our Lady at Wardija The church was built by Fra Raymond Perellos before being elected Grandmaster. Priest in charge Rev Aloysius Camilleri Telephone 2157 4449 Holy Masses: Sundays and Feast Days: 7.00 am Weekdays and Saturdays: 6.00 pm (winter); 7.00 pm (summer) St. Paul's Sanctuary The Sanctuary knownb as San Pawl tal-Hgejjeg was built by Grand Master Alof de Wignacourt instead of a smaller and much older church in the vicinity which belonged to the Diocese. The same Grand Master linked this church to the Collegiate of St Paul's Grotto as part of the Fondazione Wignacourt. The church was completely destroyed during an air-raid in 1943 and was rebuilt on the original designs in 1957. It has three paintings depicting scenes of St Paul's shipwreck, attributed to Cassarino although others attribute them to Lionello Spada, both disciples of Caravaggio. The Collegial Chapter entrusted the running of this church to the St Paul's Tourist Council, at the Emigrants' Commission. Priest in charge: Fr. Michael Agius Telephone 2158 1353 Holy Masses: Sundays and Feast Days: 8.00, 9.30, 11.00 am (11.00 am mass in English during summer) Saturday Evenings: 5.00, 6.00 pm; (and 7.00 pm during Summer) Weekdays in Winter: 8.00 am, 5.30 pm Weekdays in Summer: 8.00 am; 6.30 pm St. Martin's Grotto In 1931 a statue of the Blessed Virgin was placed in the grotto and later a statue of St. Bernadette was added; from 1939 Masses were said in the grotto on the feasts of Our Lady, but were later on discontinued. Priest in charge: Parish Priest Telephone 2157 9266 Church of St. Joseph the Worker The Capuchins opened a church on Xemxija heights in 1959; it was demolished in 1988 and as new one is being built. Priest in charge Rev Diego Theuma O.F.M.Cap. Telephone 2157 3282 Address Xemxija Heights St Paul's Bay SPB 9021 Holy Masses October to April Sundays and Feast Days: 7.00, 8.30, 10.00 am; 6.00 pm Saturday Evenings: 6.00 pm Weekdays: 7.00 am; 6.00 pm May to September Sundays and Feast Days: 7.00, 8.30, 10.00 am; 7.00 pm Saturday Evenings: 5.30 and 7.00 pm Weekdays: 7.00 am and 6.30 pm

Let others know about this page! Share it: