Faith & Religion
Information: Safi became a parish in 1598 and the building of the present church started in 1726 in a locality where in 1564 there was a small church dedicated to St. Paul.
Name: Parish Church dedicated to the CONVERSION OF ST PAUL Dedication date 10 October 1784
Priest: Parish Priest Rev Joe Cilia
Office Address: 23, Triq Santa Marija Safi SFI 1211 Telephone 2164 9223 Fax 2164 7184
Office Hours:
Masses: Sundays and Feast Days: 6.15, 7.15, 8.15, 10.00 am Saturday Evenings: 06.30 pm Weekdays: 7.45 am; 6.30 pm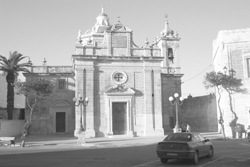 Other information on churches under this parish: St. Mary's Church The church was already in existence in 1575 as Mgr. Dusina mentions it in the report of his pastoral visit; it was closed in 1683 and restored in 1970. Today it is used as a chapel for Eucharistic Adoration on Tuesdays.

Let others know about this page! Share it: