Faith & Religion
Information: In 1880 a small church dedicated to St. Sebastian was built not far from a statue of the saint which had been erected as an act of thanksgiving after the 1813 plague. The church became a subsidiary parish church in 1918, and a parish church in 1936: being too small for the population living in the locality, a larger church was built not very far away.
Name: Parish Church of St. Sebastian Dedication date 19 January 1986
Priest: Parish Priest Rev Walter Cauchi
Office Address: Saint Bartholomew Street Qormi QRM 2182 Telephone 2148 6350 Fax 2148 8643
Office Hours: Sundays and Feast Days: 5.45, 7.00, 8.15, 9.30, 11.00am , 6.00 pm Satuday Evenings: 5.15, 6.30, 7.45 pm Weekdays: 5.45, 6.30, 7.00, 7.45, 8.30 am; 6.00 pm winter; 6.30 pm summer
Masses: Masses: Sundays and Feast Days: 5.45am, 7.00am, 8.15am, 9.30am, 11.00am, 6.00pm.
Satuday Evenings: 5.15pm, 6.30pm, 7.45pm.
Weekdays: 5.45am, 6.30am, 7.00am, 7.45am, 8.30am, 6.00pm (winter); 6.30pm (summer).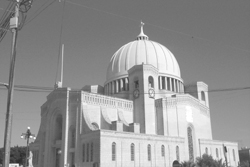 Other information on churches under this parish: Chapel of Our Lady of Sorrows The Chapel of the female section of the M.U.S.E.U.M. serves the spiritual needs of the people in the area. Priest in charge Rev Edward Muscat OSA Holy Masses Sundays and Feast Days: 8.15 am Saturday Evenings: 5.00 pm Weekdays: 7.30 am Rosary Chapel It is the chapel of the Augustinian Sisters in St. Bartholomew Street. Priest in charge: Parish Priest

Let others know about this page! Share it: