Faith & Religion
Information: Mellieha was one of the ten parishes mentioned in a document of 1436, but ceased to be a parish when the locality was no longer inhabited for fear of corsair raids; but the sanctuary of Our Lady, the oldest in Malta, remained a centre of devotion. Mellieha became a parish again in 1844. On the 5th September 1883, the Parish Priest, Rev Francis Maria Magri blessed the first stone of the new church. The new church was blessed by Bishop Pietro Pace on 5th September 1897. It was conscrated by Bishop Mauro Caruana on the 18th February 1930.
Name: Parish Church of the Nativity of the Virgin Mary Dedication date: 22 May 1867
Priest: Parish Priest: Rev Carmelo Mercieca
Office Address: Parish Square, Mellieha MLH 1071 Telephone 21 52 34 49; Fax 21 52 25 10
Office Hours: Mondays and Thursdays 4.30 - 6.00 pm Saturdays 9.30 - 11.00 am
Masses: Sundays and Feast Days: 6.00, 7.00, 8.15, 9.30, 11.00 a.m.; 5.00 p.m. Saturday Evenings: 5.00, 6.30 p.m. Weekdays: 6.30, 7.30 a.m.; 6.30 p.m.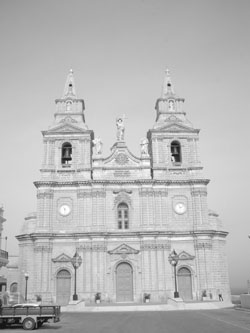 Other information on churches under this parish: Sanctuary of the Blessed Virgin The sanctuary is the oldest Marian Sanctuary in Malta and is still a pilgrimage centre. Restored in 1999 - 2000. Piest in charge: Parish Priest Holy Masses: Sundays and Feast Days: 10.00 a.m. (English) Weekdays: 8.30 a.m.; 5. 30 p.m. (winter only) Chapel of Our Lady of Mercy at Selmun The Selmun Palace chapel was used as a church by the people resident at Selmun, but a new chapel was built nearby when a British consortium took over the Palace and built an hotel near it; in 1981 the hotel was taken over by a German consortium. The chapel was no longer used for religious services, so another chapel was built nearby. Marriages may be held in this new chapel. Priest in charge: Rev John Galea B.A., Lic.D. Telephone: 21 57 57 40 Holy Masses: Sundays and Feast Days: 9.00 a.m.; 5,30 p.m. (winter), 6.00 p.m. (summer) Saturday Evenings: 5.30, 6.30 pm(winter);7.00, 8.00 pm (July and August); 6.00, 7.00 pm (April - June and September - October) Weekdays: 5.30 p.m. (winter); 6.30 p.m. (summer) St. Mary's Chapel The Christian Brothers built a novitiate in Wied Zejtuna which today is being used as a house for retreats. During the summer months, on Saturday Evenings, Mass is celebrated for the people enjoying their holiday in the locality. Telephone: 21 52 15 21 Address: Dar Santa Marija, Santa Marija Estate, Mellieha MLH 2771

Let others know about this page! Share it: