Faith & Religion
Information: The Cathedral at Mdina was for about three hundred years the only large church on the island. The building, erected during the Norman period, suffered considerable damage through an earthquake on the 11th of January 1693; rebuilt by Lorenzo Gafŗ, it was dedicated on the 8th of October 1702.
Name: Metropolitan Cathedral of Saint Paul Dedication date: 8 October 1702.
Priest: Archpriest: Msgr Anthony Vella B.A., B.D., Lic.D; Dip.Trib.Eccl.Melit.
Office Address: 4, Saint Paul Square, Mdina MDN 1100. Telephone 21 45 66 20 (Office) 21 45 41 36 (Cathedral) 79 28 96 56 (Mobile)
Office Hours: Mondays, Wednesdays, Fridays (except Public Holidays): 4.30 - 5.30 p.m.
Masses: Sundays and Feast Days: 9.30, 11.00 a.m., 6.00p.m. Weekdays: 9.00 a.m.; 6.00 p.m.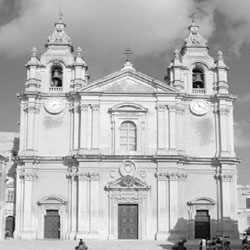 Other information on churches under this parish: Church of Our Lady of Light Since 1393 a church dedicated to the Holy Cross existed were today there is the church of Our Lady of Light. The church of the Holy Cross was demolished in 1681 and a church dedicated to St. Roche was built in its place; a "sottoquadro" of the "Madonna della Luce" was put in the church and soon it became known as the church of Our Lady of Light. Visitation Church This is a very old church which already existed in 1575; it was rebuilt several times, the last time being 1720. At present the church is kept closed. Church of St. Peter According to a report by Bishop Royas, the church was a very old one, but was rebuilt after Mgr. Dusina's visit. It took over 30 years to be built but then it was well kept by the persons in charge of it; during the last war it was taken over by refugees from the port area but was restored in 1956 and provided with an altar piece depicting St. Peter in chains, painted by Caffaro Rore. Today it is used by various organizations for their meetings. St. Agatha's Church The church was built in 1417 and rebuilt in 1694; it has always been well-kept and today it belongs to the Seminary; it has been recently restored. Church of St. Nicholas The church was already in existence in 1434 and rebuilt in 1685, most probably by Lorenzo Gafŗ. The church today is more or less derelict and is used as a store for Cathedral furnishings. Church of the Saviour The church is first mentioned in 1436 but later records say that the church was completely abandoned; in the 16th century the church was well-kept and endowed; at the beginning of the last century the church ceased to exist although parts of it were incorporated in private buildings. The church was not far away from the Cathedral and the name of a street there recalls its existence. Victory Church The church which lies on the Rabat Road was first built in 1431 and rebuilt in 1754. It was demolished by bombs in the last war but the image of the Virgin venerated in the church did not suffer any damage and it soon became a centre of devotion. The church was rebuilt in 1956. Holy Masses: Sundays and Feast Days: 11.00 a.m. Church of St. Paul The church is situated on the outskirts of Mosta and is a benefice of the Cathedral. Church of St. James The church is situated below Boschetto Gardens and is a Cathedral benefice. Church of St. Blasť The church is situated on the side of the Siggiewi-Rabat Road and is a Cathedral benefice. CHURCHES RUN BY THE RELIGIOUS St. Peter's Monastery In 1418 the ancient hospital of St. Peter became a Monastery for Benedictine nuns; renovated and enlarged in 1625, it received the relics of St. Felicissima in 1833 from the Catacomb of St. Cyriaca in Rome. Priest in charge: Msgr Aloysius Deguara Telephone: 21 45 43 55 Address: St Peter Monastery, Triq Villegaignon, Mdina MDN 1193 Holy Masses: Daily: 8.00 a.m. Church of Our Lady of Mount Carmel The Carmelite friars built their church and friary within the walls of Mdina in 1659 next to a small church dedicated to the Vergine della Rocca, given to them by bishop Balaguer on condition that one of the altars be dedicated to the Vergine della Rocca. Marriages may be celebrated in the church. Dedication date: 2 March 1906 Priest in charge: P. Alexander Vella O. Carm. Telephone: 21 45 45 24 Address: Carmelites Convent, Triq Villegaignon, Mdina MDN 1190 Holy Masses: Sundays and Feast Days: 5.30, 7.00, 8.30 a.m. Weekdays: 7.00 a.m. Wednesdays: 7.00 a.m.; 5.30 p.m.

Let others know about this page! Share it: