Faith & Religion
Information: Soon after the war, the Marsa Capuchins started the building of a new church on the outskirts of the parish for the benefit of the poeple living there. Originally the church was dedicated to Our Lady of Tears but, later on, the church was dedicated to the Queenship of Our Lady.The parish was erected in 1967.
Name: Parish Church of the Queenship of Mary Dedication date 22 ta' Awissu 1966
Priest: Parish Priest Rev Paul Bugeja OFM Cap.
Office Address: Triq Azzopardi Marsa MRS 2050 Telephone Office: 21240661 Convent: 21238012 Fax 21240661
Office Hours: Mondays, Wednesdays and Fridays: 9.15 - 10.30 am 5.15 - 6.00 pm (except First Fridays)
Masses: Sundays and Feast Days: 6.00, 7.00, 8.00, 9.00, 11.00 am, 5.30 pm Saturday Evenings: 5.30, 6.30 pm Weekdays: 6.00, 7.00, 8.00 am and 6.30 pm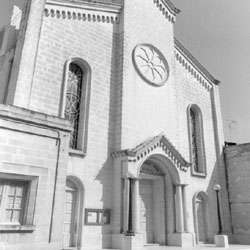 Other information on churches under this parish: Chapel of Our Lady of Sorrows Racecourse Street, Marsa Priest in charge Rev. Valente Calleja OFM Cap. Holy Masses Sundays and Feast Days: 08.00, 10.00 am

Let others know about this page! Share it: