Faith & Religion
Information: Kirkop became a Parish in 1592. The parish church built in 1500 was enlarged between 1706 and 1779 and the two belfries were added in 1800. Bishop Labini consecrated the church on the 10th November 1782, dedicating it to Saint Leonard de Noblat.
Name: Parish Church of St. Leonard Dedication date 10 November 1782
Priest: Parish Priest Rev NoŽl Camilleri
Office Address: 31, Triq il-Parrocca, Kirkop KKP 1011 Telephone 21642893 Fax 21649104
Office Hours: Tuesdays and Fridays: 04.00 - 5.30 pm
Masses: Sundays and Feast Days: 06.00, 07.00, 08.30, 10.00 am and 06.00 pm Saturday Evenings: 06.00 pm winter; 06.30 pm summer Weekdays: 07.45 am ; 06.00 pm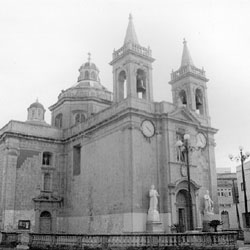 Other information on churches under this parish: Annunciation Chapel The chapel was built in 1450, closed in 1575 by Mgr. Dusina and re-opened in 1754. At present it is being used for Perpetual Eucharistic Adoration.

Let others know about this page! Share it: