Faith & Religion
Information: On the 10th July 1902 some drunken sailors started throwing stone at a house near the bridge leading to Manoel island; one of the stones became stuck between the glass and the image of Our Lady of Mount Carmel in a small shrine on the wall of the house. The incident led to the building of a small chapel which came to be known as the chapel of Our Lady of the Stone. In 1921 Gzira became a parish and the people in the area started building a new church to take the place of the chapel. The church is dedicated to Our Lady of Mount Carmel.
Name: Parish Church of Our Lady of Mount Carmel Dedication date 23 May 1959
Priest: Parish Priest Rev Carmelo Tanti
Office Address: Parish Office Domus Curialis, 119, Triq Manoel De Vilhena Gzira GZR 1016 Telephone 21335841 Fax 21332419
Office Hours: Office Hours Wednesdays 09.00 am - 10.30 am 05.00 pm - 06.30 pm Fridays 09.00 am - 10.30 am
Masses: Sundays and Feast Days: 07.00, 08.15, 09.30, 11.00am; 06.00 pm (winter); 06.30 pm (summer) Saturday Evenings: 05.00 pm; 06.30 pm Weekdays: 06.45, 07.30, 08.30am ; 06.00 pm (winter); 06.30 pm (summer)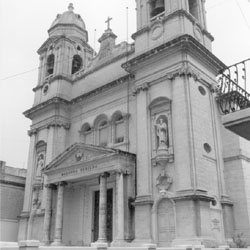 Other information on churches under this parish: Stella Maris College Chapel The school which the Christian Brothers had opened in Villa Schinas in 1904, was transferred to the new school which they built in 1938. Twenty years later the College chapel was opened to the people residing in the College area. Marriages may be celebrated in it. Brother in charge Br Dominic Rosso FSC Holy Masses Sundays and Feast Days: 07.30 am; 09.30 am Saturdays: 06.30 pm winter; Church of the Redeemer The church was built by a certain Albert Grixti without the approval of the ecclesiastical authorities; permission was given to open the church when it was handed to the Augustinian Sisters who had opened a school in the vicinity. Today the church is taken care of by the parish.

Let others know about this page! Share it: