Faith & Religion
Information: In 1952 the Dominican friars, through the efforts of their provincial, Fr. Esmond Klimeck, built the Sanctuary of Our Lady of Fatima on Guardamangia hill; the Sanctuary had to be a centre of the Rosary Crusade. The church was opened in 1955 and became a parish in 1968.
Name: Parish Church of Our Lady of Fatima Dedication date 29 May 1978
Priest: Parish Priest REV. Michael Camilleri OP
Office Address: Parish Office Fatima Santuary Triq Santa Monika G'Manga PTA 1110 Telephone 21220050 - 21233620 Fax 21223947
Office Hours: Office Hours Mondays and Saturdays 9.30 - 11.00 am Mondays and Wednesdays 5.00 - 7.00 pm
Masses: Sundays and Feast Days: 6.00, 7.30, 8.30, 10.00 am, 12.00 and 6.00 pm Saturday Evenings: 6.00 pm Weekdays: 7.00 am, 9.00 am, 6.30 pm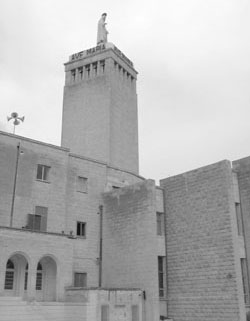 Other information on churches under this parish: Church of Our Lady of Sorrows The church was built in 1590 near a cemetery where the victims of the plague are buried; in 1617 a small friary was added to the church by the Augustinian friars who took residence in the small friary in 1652 but left soon after. In 1721 the church was chosen as a subsidiary parish church of the parish of St. Paul in Valletta to cater for the spiritual needs of the people living in the area. In 1740 the Floriana church was chosen as the subsidiary parish church of St. Paul's and the Pieta church lost its status. In 1974 the church and the friary were given to the Franciscan Sisters of the Sacred Heart. Friary of St. Thomas of Villanova The school which the Augustinian friars had opened at Tarxien was transferred to Pieta in 1965 and a year later the friars started building the new college which was opened in 1972. Adjacent to the college is the Centre for Augustinian Vocations. The chapel of the Centre is dedicated to St. Thomas of Villanova, while that of the college is dedicated to St. Augustine.

Let others know about this page! Share it: