Faith & Religion
Information: In 1798 a small church was built where before a small shrine of the Virgin Mary had existed for more than a century. The church was rebuilt in 1844 but was demolished by the Government to widen the road from Paola to Zabbar. In 1950 the Carmelite friars built a small church not far from the place where the old church was situated. The Carmelite church became a parish church in 1965 and the friars, because the population of the parish was rapidly increasing, decided to build a larger church which was blessed in 1988 and dedicated in 1990.
Name: Parish Church of Our Lady of Mount Carmel Dedication date 1 February 1990
Priest: Parish Priest REV Joe Vella O.Carm.
Office Address: Parish Office Wesgha Reggie Miller, Fgura FGR 1210 Telephone 21805756 Office 21827900 Convent 21661745 Church 21802992 Fax
Office Hours: Mondays, Tuesdays, Wednesdays and Saturdays: 8.15 am - 9.30 am Tuesdays, Thursdsays and Fridays: 4.30 pm - 6.15 pm
Masses: Sundays and Feast Days: 6.00, 7.00, 8.00, 9.00, 10.00, 11.00 am; 6.30 pm Saturday Evenings: 5.30 pm; 6.30 pm Weekdays: 6.00, 6.45, 7.45, 8.30 am, 6.30 pm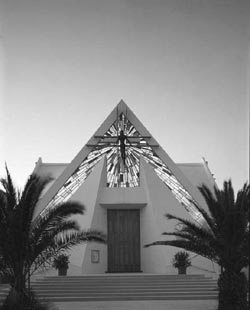 Other information on churches under this parish: None

Let others know about this page! Share it: